Brigadier General Robert L. Cardenas Biography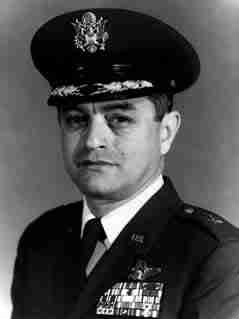 Brigadier General Robert Cardenas
Brigadier General Robert L. "Bob" Cardenas, USAF (retired)Test Pilot, Combat Leader in both Bombers and Fighters as well as Commander of the Air Force Special Operations Force. He has flown over 60 different aircraft in his career.
General Cardenas began his military career as a Private in the Army Coast Artillery, then became a pilot as a Cadet in the Army Air Corps. He was commissioned a 2nd Lt. in July 1941 and in 1942 was sent to 29 Palms, CA to establish an Army Air Corps Glider School.
In 1944 he flew combat missions in B-24 Liberators in the skies over Germany, He was shot down on his 20th mission but was not captured. He escaped into Switzerland and then into France prior to D Day. He was later flown out back to England and to a rehabilitation center in the US. He became a test pilot after his graduation in 1945 from the Flight Performance School at Vandalia, Ohio.
He participated in the flight test evaluation of the German jet fighter ME-262 and the Arado 234 bomber. In 1947 Cardenas was a key member of the X-1 supersonic project.

Major Cardenas was the Officer In Charge Of Operations and command pilot of the B-29 that launched Captain Charles Yeager into the realm of supersonic flight.
In 1948, he was assigned as Officer in charge of Flight Test Division projects at Muroc AB and as Chief Air Force test pilot on the YB-49 flying wing project. After completion of the Performance Phase II tests he checked out Captain Glen Edwards in the YB-49 on May 20 & 21st. He then received orders to USC for completion of his Aeronautical Engineering degree. He was ordered back 15 days later, after the crash of the YB-49 and loss of the crew, in order to complete the Stability & Control Phase in the remaining YB-49 aircraft.